Zamioculcas Raven
A few years ago we introduced the Emerald Palm's 'little brother': Zamioculcas Raven. Zamioculcas Raven's shiny black feathered leaves are reminiscent of the striking large bird from which the plant derives its name. This variety was discovered in South Korea, but originates from Zanzibar in Africa.
Zamioculcas Raven is available exclusively from Royal Green in pot sizes 14, 17 and 21 cm. It takes around 2 years to cultivate and produce Zamioculcas Raven in a 17 cm pot size, which is some six months longer than its green sibling.
Colour change
What is remarkable about Zamioculcas Raven is that each new shoot starts off pale green. As they get older, the colour of the leaves change to the fabulous deep black colour that makes this Zamioculcas unique. It retains this dark colouring. This is a great process to follow close-up, particularly because of the remarkable colour contrast between the new pale green shoots and the dark black leaves. Zamioculcas Raven is a unique designer piece for your interior.
Nieuwe bladeren van Zamioculcas Raven beginnen groen, waarna ze in enkele maanden doorkleuren naar diepzwart.New leaves on Zamioculcas Raven start green, after which they change colour to deep black over a few months.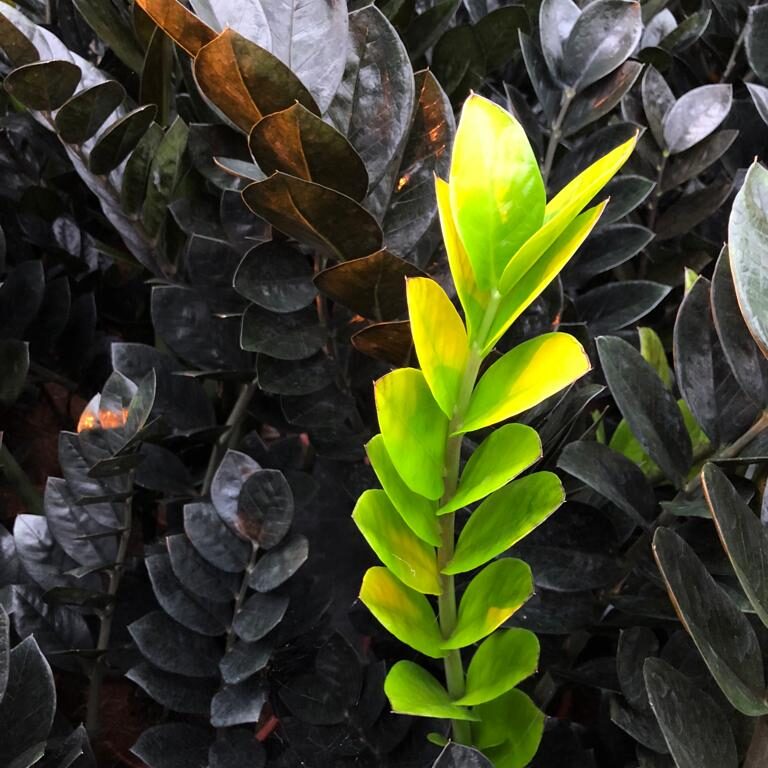 Viewing tip | Plant lover Mama Botanica has produced a video about Zamioculcas Raven – watch it here!