Royal Colours
Perhaps the best-known garden plant is the Geranium. At Kwekerij van Winden we specialise in growing these cheerful garden bloomers in a 13 cm pot size. Our Geranium range consists of two types: Geranium Zonale (upright) and Geranium Peltatum (trailing). We grow both types in a wide range of colours, such as red, pink, lilac, white, bicolour and purple. We give the plants plenty of time to grow in our greenhouses, so you can enjoy our Geraniums for a long time. Geraniums combine beautifully with other bedding plants from our range, such as Senetti or Violas.
Tip
Geraniums like a light position. The sunlight gives the plant energy to continue flowering and growing.
Our Patio Roses have been the outstanding romantic eyecatchers within our seasonal range for years. The collection includes many different colours, such as red, pink, orange, salmon, yellow and white. Great for combining, or place a single colour in a large stylish pot. Patio Roses not only look great on your patio, but also have a beautiful fragrance. The large flowers bloom abundantly, often in clusters.
Patio Roses are available (exclusively) from Kwekerij van Winden in a 21 cm pot size, and form part of our Royal Colours collection. Our Patio Roses all come with a double arch, so the plant develops and retains an attractive shape. Patio Roses grow up to around 75 to 95 cm high. A speciality within our range is the Tricolor. This colourful plant turns your garden into a party. Did you know that Patio Roses are hardy? You can continue to enjoy their floral display for years!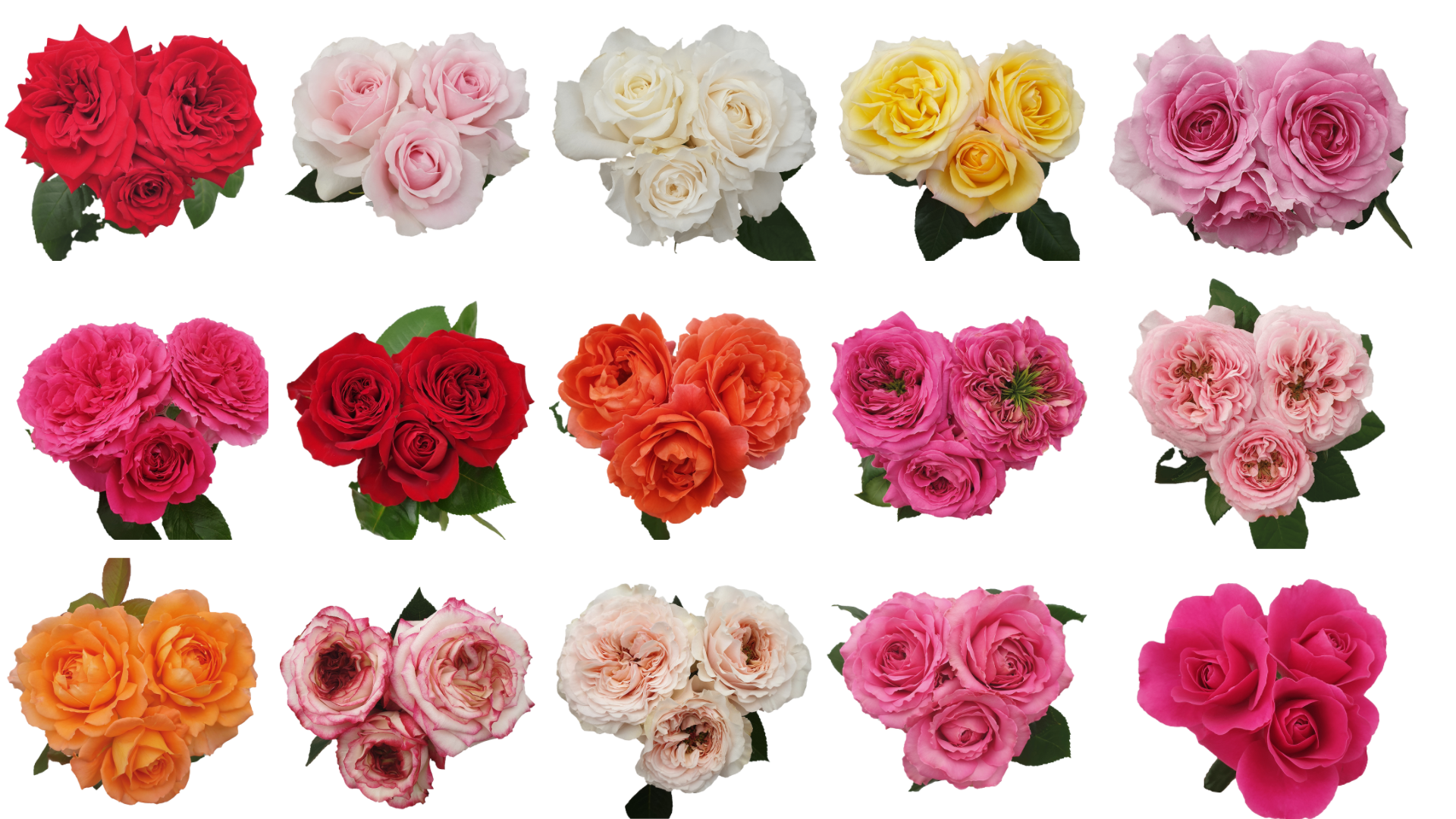 Tip
Want to enjoy your Patio Rose for even longer? Cut back the stem with wilted flowers about halfway. The plant then has more energy for its other stems, and will flower even more abundantly!
The breeder of our patio roses has created a great video. This gives you a unique insight into the cultivation process for these fantastic products:
Looking for a colourful feature to brighten up your garden? How about a flowering Hanging Basket? These mixed bowls filled with various types of spring bloomers that together make up a colourful display. We create beautiful combinations of different products, so that we can supply no less than six different types of Hanging Baskets. Our Hanging Baskets have an impressive 27 cm diameter.
Each bowl has a handy water reservoir, so that you don't need to water them as often. Easy care! The Royal Colours Hanging Baskets are a blooming gift, ideal for occasions such as Mother's Day. It's easy to hang the Hanging Baskets, because each bowl has a handy hook.
TIP
When hanging your Hanging Basket, choose a sheltered spot so that it doesn't get battered by the wind. A position in sunlight is no problem – the plants actually like it!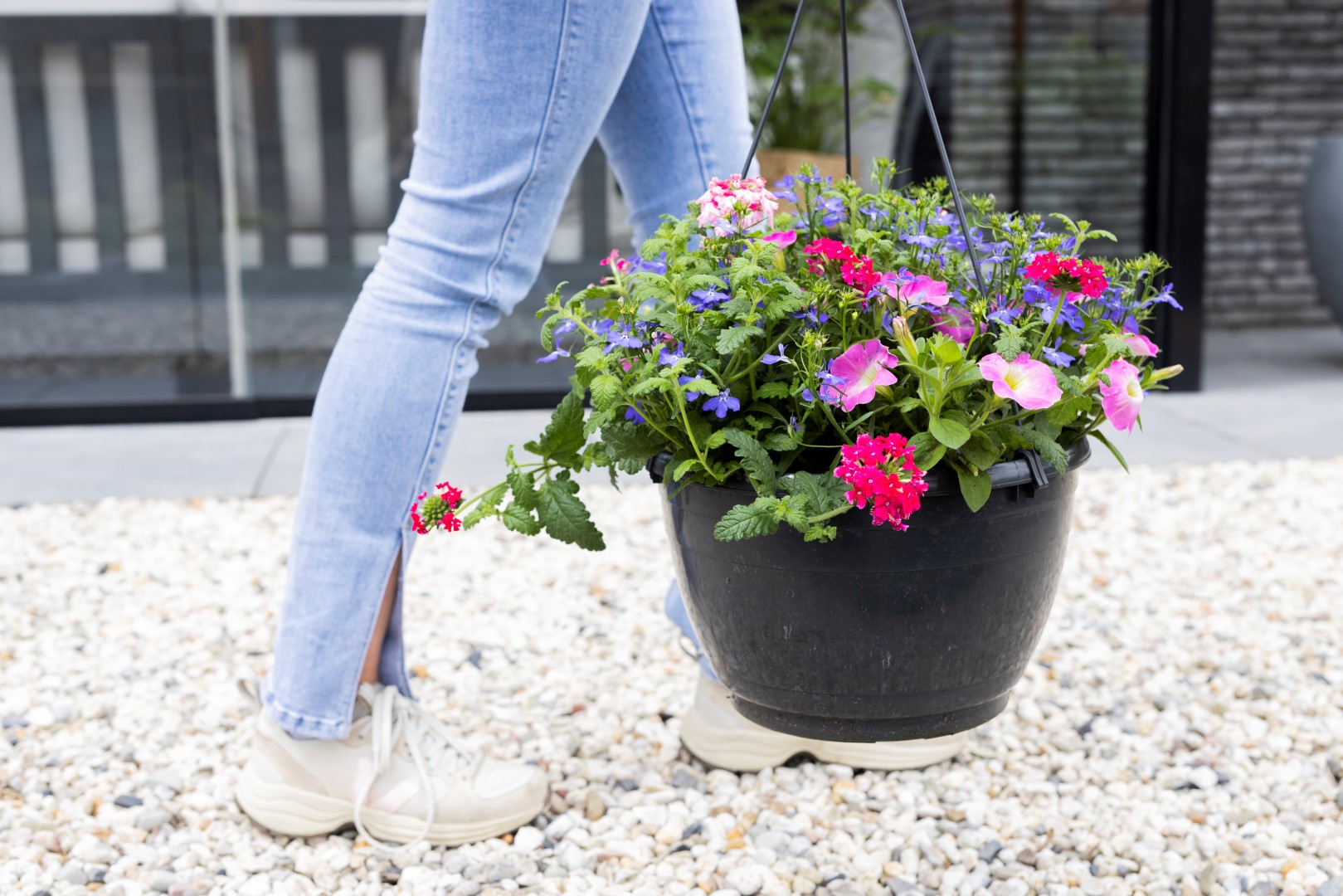 Senetti is a cheerful spring bloom. With its large flowers in fresh colours, Senetti is a real eyecatcher in the garden or home. A couple of Senettis in attractive pots will give you instant spring fever! You can also place Senetti indoors, provided it's in the sun or partial shade. The great thing about Senetti is that it continues to flower for a long time, and can also withstand a light frost. Senetti is therefore the ideal plant to bring colour to your garden in early spring.
Kwekerij van Winden grows Senetti in four eye-catching colours: blue, purple, pink and fuchsia. Senetti is part of the Royal Colours collection.
DID YOU KNOW…
Did you know that Senetti is also known as Dusty Miller or Senecio?
This well-known garden bloomer is a colourful character. Violas come in many colours and sizes to suit every taste! The Royal Colours Viola collection consists of various Cornuta varieties, also known as the horned pansy. Our range includes no fewer than six different colours, that we grow in two pot sizes: 17 cm and 40 cm.
The Violas in the 17 cm pot size are supplied in a colour-matched nursery pot. That means that the colour of the pot matches the colour of the flower. A vivid combination! Our 40 cm bowl is a real eyecatcher thanks to its size.
TIP
Violas are perfect for people who don't have green fingers. The plants require little care, and only needs watering when they have been dry for a while. Do provide good nutritious garden soil though.
The Cushion Chrysanthemum is a true autumn bloomer that particularly looks its best in the latter part of the year, since Cushion Chrysanthemums start to shine when the days get shorter. Its extensive colour palette means you can match the plant perfectly with other autumn-flowering plants. Kwekerij van Winden grows cushion chrysanthemums in six colours in a 19 cm pot size.
TIP
Place your Cushion Chrysanthemum in a light spot after purchase and the plant will continue flowering until November.