Royal Green
Royal Green's primary product. At Kwekerij van Winden we have refined the cultivation of the most stunning Zamioculcas to perfection. Our production locations are equipped in such a way that we can grow the most beautiful Zamioculcas in the most sustainable and efficient way. We thereby focus on the quality of our plants: as many 'shoots' per plant as possible, creating an attractively full Zamioculcas.
The main variety that we grow is Zamioculcas Emerald Palm: the classic! This variety has dark green leaves with a beautiful shine. We offer this popular houseplant in three variants: in pot sizes 14, 17 and 21 cm.
WANT TO KNOW MORE ABOUT ZAMIOCULCAS?
The popular Zamioculcas has been known (botanically) since 1892. But it was not until 1996 that the first Dutch growers took on the challenge of growing Zamioculcas. This modern houseplant soon became very popular. And we can see why!
Its strong leathery shiny leaves make Zamioculcas very eye-catching. Zamioculcas' biggest benefit is that it's such an easy plant. You can place it anywhere (sun or shade), and when it comes to watering: less is better than more. You can happily skip a session with the watering can occasionally. Because this plant stores food in its rhizome and stems, it is one of the easiest houseplants ever.
A few years ago we introduced the Emerald Palm's 'little brother': Zamioculcas Raven. Zamioculcas Raven's shiny black feathered leaves are reminiscent of the striking large bird from which the plant derives its name. This variety was discovered in South Korea, but originates from Zanzibar in Africa.
Zamioculcas Raven is available exclusively from Royal Green in pot sizes 14, 17 and 21 cm. It takes around 2 years to cultivate and produce Zamioculcas Raven in a 17 cm pot size, which is some six months longer than its green sibling.
Colour change
What is remarkable about Zamioculcas Raven is that each new shoot starts off pale green. As they get older, the colour of the leaves change to the fabulous deep black colour that makes this Zamioculcas unique. It retains this dark colouring. This is a great process to follow close-up, particularly because of the remarkable colour contrast between the new pale green shoots and the dark black leaves. Zamioculcas Raven is a unique designer piece for your interior.
Nieuwe bladeren van Zamioculcas Raven beginnen groen, waarna ze in enkele maanden doorkleuren naar diepzwart.New leaves on Zamioculcas Raven start green, after which they change colour to deep black over a few months.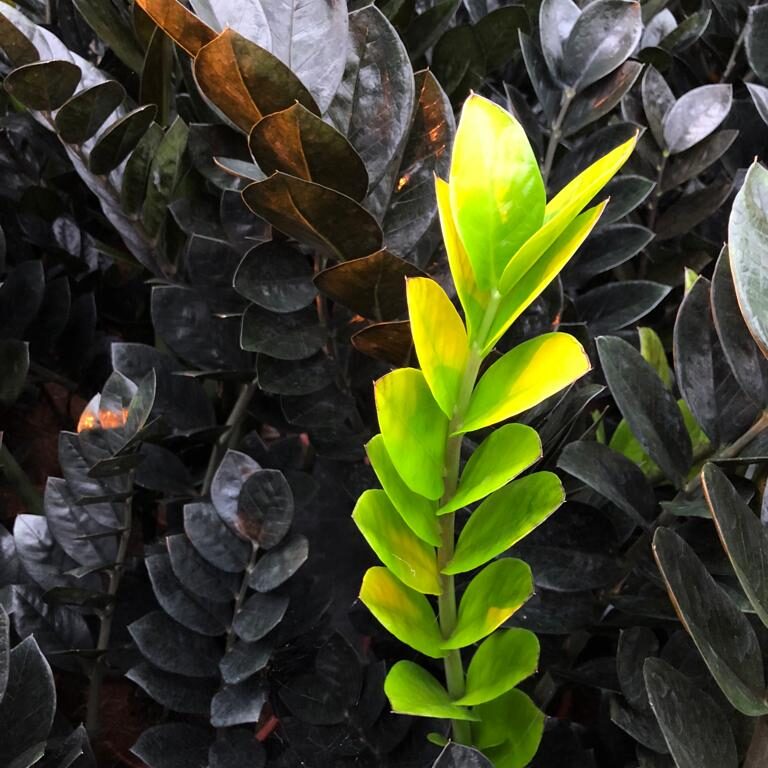 Viewing tip | Plant lover Mama Botanica has produced a video about Zamioculcas Raven – watch it here!
The Mount Everest variety (officially called Curio Ficiodes Mount Everest) is a compact plant that is easy to look after. This powerhouse particularly stands out thanks to its grey-blue colour. Curio Mount Everest is grown exclusively by Kwekerij Van Winden and is available in pot sizes 15 and 17 cm.
Want to know more about Curio?
Curios are members of the large group of Senecio (ragwort) plants, of which there are over 1300 species (in all sorts of shapes). The Curio is best described as a modern succulent with faded natural tones. Its roots in South Africa (Cape Town and the surrounding area) mean that the plant is accustomed to dry regions and lots of sunshine. The greyish blue layer of wax on the cylindrical leaves give the plant an unusual modern look. You can place Curio both indoors and outdoors. The plant thrives at temperatures between 5° and 30°C, but will not shed leaves at higher temperatures either (even at 40°C!). It's best not to overwater your Curio.
A remarkable newcomer! This new exclusive Cure variety is particularly special thanks to the more delicate and longer leaves compared to the other Curio varieties. Curio ficiodes Blues has a more compact structure and lots of branching, creating an attractively full product. This shows off the cool blue sheen across the plant even better. We supply Curio Blues in a 15 cm pot size.
Want to know more about Curio?
Curio belongs to the large group of Ficoides-like plants (herbaceous plants), of which there are as many as 1,300 species (in various forms). The Curio is best described as a modern succulent with grayish natural tones. Raised in South Africa (Cape Town and surroundings), the plant is familiar with dry areas and lots of sunshine.
The gray-blue wax layer on the cylindrically shaped leaves gives the plant a particularly modern look. Curio can be placed both indoors and outdoors. The plant thrives at temperatures between 5˚ and 30˚C, but will not drop a leaf at higher temperatures (even at 40˚C!). It is best not to water your Curio too much.
Echeveria Devotion steals the show! Not just in your home, but also literally, since this plant won an international prize for 'Houseplant of the Year' in 2020. Echeveria Devotion has warm claret and green leaves that feel velvet soft. A real stunner! Grown exclusively by Kwekerij Van Winden in a 15 cm pot size.
The Echeveria originates from the Mexican desert, where botanist Antansio Echeveria discovered the succulent in the 19th century.
Because it's a succulent, the plant can cope very well with drought and heat. It stores water in its leaves, stems and roots to build up its own buffer. So you don't need to water Echeveria very often! This plant is at home in your living room, in the garden or on a patio or balcony.